Chiral π-conjugated molecules are important building blocks in the the design of organic optoelectronic materials and devices. Highly annelated, chiral π-systems, such as [n]helicenes and tetraphenylenes, are known to possess strong chiral properties and high configurational stability, which are prerequisites for many chiral materials.
Helicenes, the structures with ortho-fused aromatic rings, are among the molecules with inherently strongest chiral properties,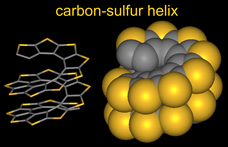 due to helical shape of their π-conjugated systems. Oligothiophenes have been intensively studied as materials for organic electronics. α-Oligothiophenes, in which thiophene rings are connected at the α-positions, have great potential as materials for organic field-effect transistors. Succesive sequences of α-connection of thiophenes followed by β-annelation to form thiophene rings lead to a planar, quasi-linear extended conjugated π-system of carbon-sulfur oligomers. In contrast to the α-connection/β-annelation sequence, iterative sequences of β-connection of thiophenes and α-annelation to form thiophene ring provide the esthetically pleasing carbon-sulfur helices.

We developed the first synthesis of an annelated heptathiophene molecule, the carbon-sulfur [7]helicene, in which the thiophene rings are cross-conjugated and annelated into a (C2S)7 helix, a fragment of carbon-sulfur (C2S)n helix.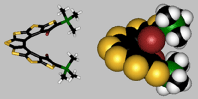 (Angew. Chem. Int. Ed., 2000. The approach to the racemic synthesis of the [7]helicene was based upon two iterations, each consisting of a connection and annelation sequence. In 2004, we reported asymmetric synthesis of the carbon-sulfur [7]helicene J. Am. Chem. Soc., 2004). We further developed asymmetric synthesis for relatively long fragments of the carbon-sulfur helix, substituted with alkyl chains (n-octyl groups) at the alpha-positions of the terminal thiophenes. The highest homologue prepared to date is the undecathiophene, for which the structure was confirmed by X-ray crystallography (J. Am. Chem. Soc., 2005).
We reported the "helical fold-and-lock" concept in the synthesis of a bis[7]helicene with a rigid,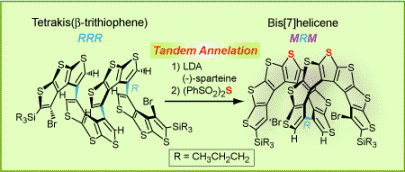 helically locked structure (Angew. Chem. Int. Ed., 2009). We demonstrated that the tetrakis(β-trithiophene) folded into a helical conformation (racemic RRR and SSS configurations) that facilitated the tandem annelation with high diastereoselectivity and modest enantioselectivity, to provide a bis[7]helicene with excess of MRM over PSP configuration. The enantioselectivity was mediated by (–)-sparteine. The rigid, helically locked structure of bis[7]helicene is imposed by the short intramolecular contacts between the curved π-systems of [7]helicene moieties, as revealed by synchrotron X-ray structure. The helically-locked bis[7]helicene possess chirooptical properties similar to those calculated for the corresponding long [n]helicene (n = 15).
Typical π-stacks, involving planar π-conjugated molecules, are reminiscent of "stacks of pancakes". Tetra-o-phenylenes may be viewed as four such "pancakes" arranged in a double helical segment,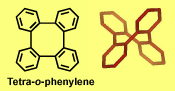 rigidly fixed at 60 degree dihedral angles and pointing in four different directions. The tetraphenylene is derived from four phenylenes that are ortho-annelated to form an eight-membered ring in the center of the molecule. Although the tetraphenylene is an achiral, saddle-shape molecule with D2d point group of symmetry, substitution or annelation may break the symmetry, to provide chiral π-conjugated systems with extraordinary high barriers for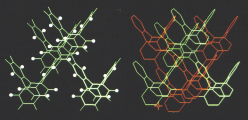 racemiza-tion in the 60-70 kcal mol-1 range. These barriers are much higher than those for [n]helicenes. Succesive connections and annelations of tetraphenylenes would lead to a three-dimensional carbon network with the space group Pn3m, which was described by Riley in 1946. This carbon allotrope structure is of relatively low-strain, compared to fullerenes, and it remains experimentally elusive. This achiral carbon allotrope could be dissected into π-conjugated double-helical polymers of tetraphenylenes, which may be viewed as two interwinding poly-m-phenylene helices or sequentially annelated tetraphenylenes.