Welcome
欢迎

Bienvenue

ようこそ

Willkommen

Bienvenido

환영합니다

Bem-vindo

Добро пожаловать

Benvenuto

Selamat datang

ยินดีต้อนรับ

Hoan nghênh

أهلاً و سهلاً

welkom

خوش آمدید

Καλώς Ορίσατε

Aloha

Ласкаво просимо

The Guo Lab is a place where chemistry meets biology. We use a multidisciplinary approach to tackle challenges associated with human health and sustainable chemical production. We seek to translate scientific discoveries into biomedical and biotechnological applications.

Our research focuses on the elucidation of molecular mechanisms that are used by living organisms to achieve essential biological and/or chemical transformations, and on the development of enabling methodologies for both biochemical investigations and biomedical applications. We are also engaged in the use of Synthetic Biology approach to re-write or re-wire genetic information so that a cell or an organism can be programmed to perform a pre-defined task.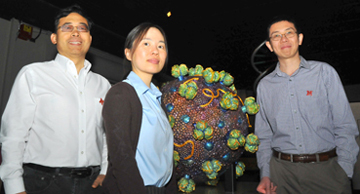 Using a genetically modified form of the HIV virus, the Guo Lab has developed a promising new approach that could someday lead to a more effective HIV vaccine.
The initial work was published in Angew. Chem. Int. Ed. 2014, 126, 4967. Recently, this research was also featured on UNL Today, Lincoln Journal Star, KETV (an ABC-affiliated television station in Nebraska), and NET radio (Nebraska's NPR station).
---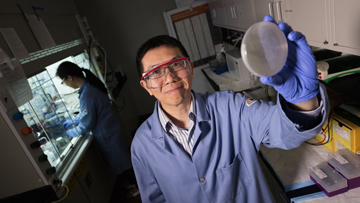 Dr. Guo earned CAREER Award from the National Science Foundation to further his work on a promising new method for incorporating new amino acids into proteins through quadruplet codon decoding.
This work was published in:
ACS Chem. Biol. 2013, 8, 1640.
Sci. Rep. 2016, 6, 21898.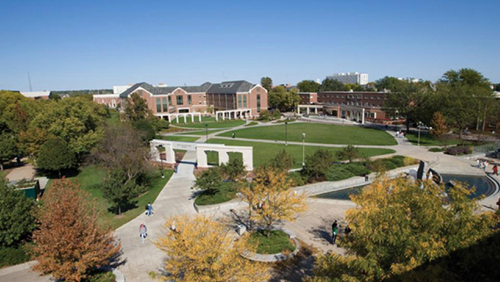 A graduate or postdoctoral student in my group can expect to receive training in bioorganic chemistry, chemical biology, and synthetic biology and significant exposure to one or more of the following specialties: organic synthesis, enzymatic synthesis, combinatorial (bio)chemistry, bio-molecular engineering, high throughput assay, directed biomolecular evolution, in vivo biosensor development, unnatural amino acid mutagenesis, protein biochemistry, and molecular biology.
The Guo Lab is seeking a highly motivated and qualified postdoctoral candidate to work in the field of Chemical Biology and Biochemistry. Applicant must have PhD in Chemistry, Biochemistry, or other related fields. The successful candidate is expected to be an independent and very dedicated scholar. Experience with scientific journal writing and submission is a plus. Send inquiries to Prof. Guo (jguo4@unl.edu).
Students who are interested in a graduate career in Chemical Biology, Bioorganic chemistry, or synthetic biology are encouraged to submit applications to the graduate program at Department of Chemistry, UNL or to send inquiries to Prof. Guo (jguo4@unl.edu).